🎄Christmas has arrived at Water Babies🎄
Explore our Christmas collection and find an array of wonderful presents and stocking fillers for your little one during this festive season. ❄️

Our award winning products are carefully selected (and affordably priced!), ensuring they meet the highest safety standards to give you quality swimming goodies that last. From pool toys and bath toys for endless water fun, to cute plush toys and baby comforters, perfect for soothing your little one; we have lots of inspiration for the perfect present. 🎁
As seen in lessons
Water Babies Fish Family
Designed and named by our Water Babies swimmers, your little one might recognise these squidgy characters from lessons. Great as teething toys to help soothe babies and provide sensory stimulation, our fish toys encourage babies to reach forward in the water, developing their muscles.
Let's Play Peekaboo
Splash Mirror 
Encourage your baby to love the water with the Water Babies Splash Mirror, the perfect mirror for bath time or water play.
This will also spark your little one's curiosity and fantastic for both, bath time and tummy time!!
New Water Babies Floatboard
This swim floatboard is an ideal choice that stands out among traditional baby gifts, offering a great opportunity to keep practicing those tiger arms!
Snuggle Up
Cuddly Bubba Plush Toy
This super soft plush toy is suitable from birth, making it a great little gift for newborns. Little ones will love snuggling up with Bubba. His tail and fins are ideal for little hands to grasp when taking out and about on adventures, and he's the perfect size for bedtime cuddles.
A special keepsake for Water Babies
Baby Hooded Towel
Made from 100% cotton, the Water Babies Hooded Towel is designed with a parent's needs in mind. Pop the hood on your little one as soon as they're out of the water to get them warm and dry in no time! It includes embroidered bubble spaces for all the swimming badges earned during your little one's lessons!
Ready for Puddle-fun?
Waterproof Onesies
Featuring a cuddly and super soft fleece lining, a waterpoof outer, and a generous hood for extra warmth, our After Swim Onesies aren't just the perfect solution to the sometimes-chilly trip home after swimming; they make a great and cosy rain suit too. Keep your little one warm and dry while enjoying outdoor play during those rainy days!
Make Changing a Breeze
Bubba Changing Mat
Made from 3mm neoprene, compact and lightweight, our changing mat is especially designed for use before and after Water Babies lessons. The soft padding of the Bubba Changing Mat provides a warm, cozy surface for your baby to lay on for a quick change. Perfect for those swift poolside changes, it's also great for putting your little one on while you're jumping safely into the pool.
☃️Our warmest wishes for a Happy Christmas! ☃️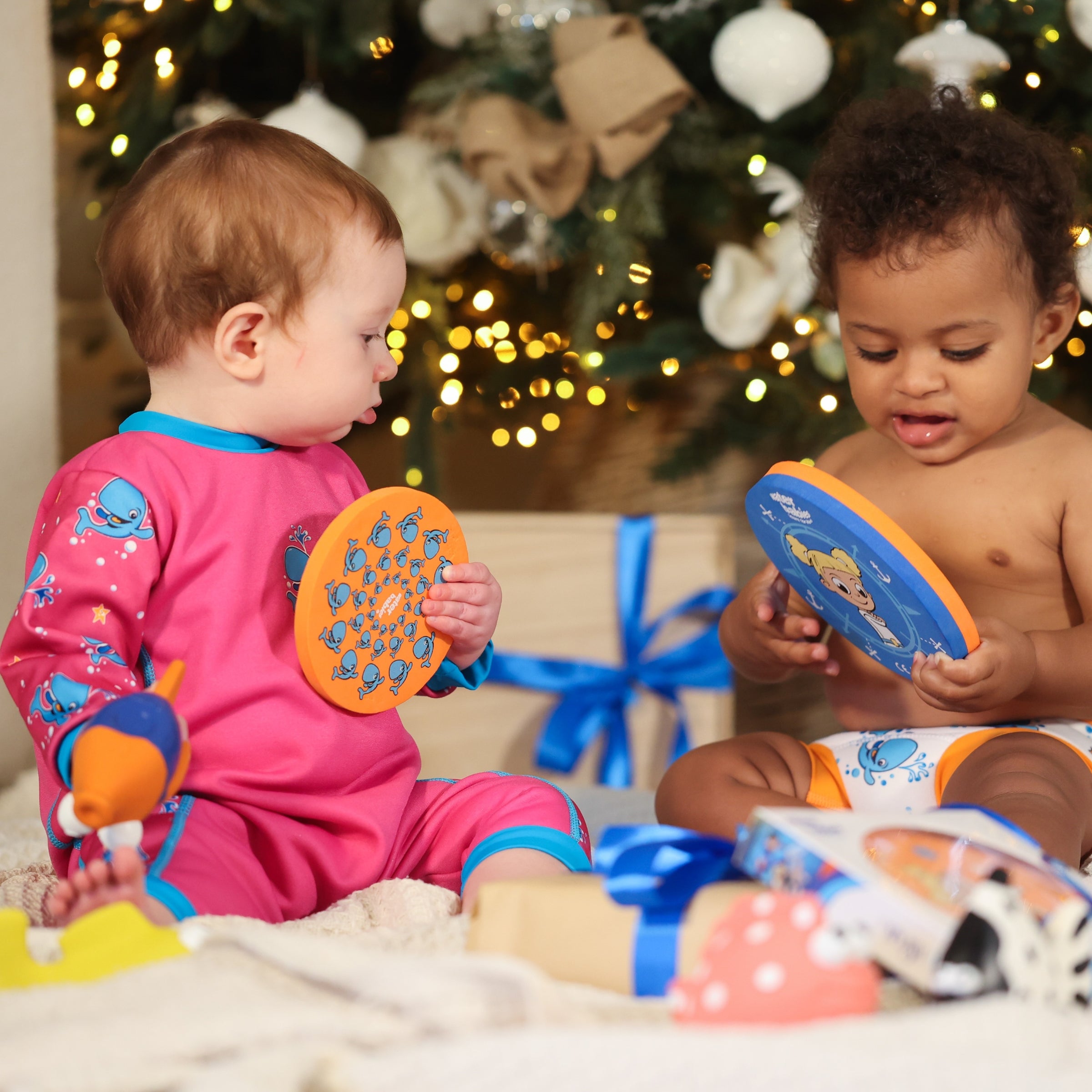 ✨Gift a skill for life this Christmas✨
Not a member of the Water Babies family yet? This Christmas, gift a skill for life with baby and toddler swimming lesson vouchers. With the best trained teachers in the world, we'll take your little one on a journey of aquatic discovery, adventure and purposeful play. Through lessons, our products to enjoy at home and in the pool, and our unique underwater photography images, we can provide your little one with an experience which will stay with them for a lifetime. 🐳
Vouchers are available to purchase through your local office:
Dublin, Meath, Kildare - email pushtheduck@waterbabies.ie
Cork, Kerry - email splishsplash@waterbabies.ie
Galway, Limerick - email surfing@waterbabies.ie
Wexford, Waterford, Kilkenny, Carlow, Tipperary - email - monkeymonkey@waterbabies.ie